Take Care When Signing Things
Don't sign anything until you read it.
Don't sign anything until you understand it.
Don't sign anything unless you agree with it.
Don't sign anything with blank spaces or that does not include all the things that are important to you.
Keep a copy of everything you sign.
If you're told what is written down really means something different from what you think it means, don't automatically believe it.
If you're not sure about signing something, take it to a lawyer before you sign it, not after.
Keep good records.
A verbal contract is worth the paper it's written on.
If someone is trustworthy enough to do a deal with, they should be willing to sign a written agreement.
The answer to "Don't you trust me" is always "It is not an issue of trust; it is an issue of doing things properly".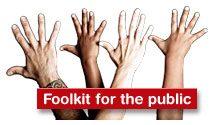 Take Care When Buying Things
If a deal looks too good to be true, it probably is.
When you're buying something, don't rely on the advice of a salesman who gets paid only if you buy it.
When buying a house, hire your own qualified home inspector.
Do lots of research before hiring a contractor.
If a deal is valid only if you sign right now, it's almost never a good deal.
After you buy most things, you do not have 3 days to change your mind.
You're still responsible for paying your lease, even if you move out early.
If someone on the other side tells you that you don't need a lawyer, you almost certainly do.
Australian Consumer Law
The Australian Consumer Law (ACL) is a single, national consumer law.
The ACL includes:
an unfair contract terms law covering standard form contracts;
a law guarsanteeing consumer rights when buying goods and services, which replaces existing laws on conditions and warranties;
a national product safety law and enforcement system;
a law for unsolicited consumer agreements, which replaces existing State and Territory laws on door-to-door sales and other direct marketing;
simple national rules for lay-by agreements; and
new penalties, enforcement powers and consumer redress.
There are many publications about the ACL for both business and consumers at:
They have a separate brochure on Professions and Competition.
Consumer and Business Services(SA) web site also includes topics on consumer advice, associations, youth and property & tenancy and more..
Guidelines for developing a voluntary industry code of conduct assist industry members to improve business practices and compliance with their legal obligations.
Landlords & Tenants - DIY
CAUTION - provided for reference only as the Laws are different in every State.
Intellectual Property - DIY
Good names for your business
Choosing a name that won't get you into trouble with anyone can be difficult. It is not enough just that you registered a business name or domain name. Even a Registered Trademark can be challenged later on.
For discussions about this see Business names, company names and domain names and What is a business name?. Places you check should include these:
Registering a business name lets you register a Business Name online. Alarm bells should ring if you are choosing a name because it is sort of like somebody else's name.
Help Us Improve
Please give us feedback about your experiences using Foolkit and ideas for improvements.